4 Top Selling Long Beach Neighborhoods: A Guide
When it comes to the most desirable cities in America, few places touch Long Beach, California. Living in Long Beach means days full of sun, serenity, and beautiful vistas.
It also means having to decide which Long Beach neighborhood to live in—no small task when there are so many great spots to choose from.
In this guide, we'll cover the best neighborhoods in Long Beach, from the average home price in the area to the local amenities. Whether you're buying or selling a home, this information can help you take your next step.
#1 Bixby Knolls
Fun and family-friendly, Bixby Knolls is the perfect neighborhood for families, young professionals, and anyone who loves great food and community events.
What's more, the neighborhood is located in North Long Beach, right above Downtown, making it ideal for people who need to commute for work or pleasure. It's also a short, ten-minute drive away from the Long Beach Airport, so flying is a breeze.
In short, Bixby Knolls has a ton to offer.
Let's take a deeper look at the neighborhood.
Median Home Listing Price
The median home listing price for Bixby Knolls is $815,000, which is slightly above the Long Beach average home price. 1With this high median price, it's no surprise that some homes are listed for north of $1 million.
That said, it's also possible to find homes in the $300,000 range.
The most popular homes are single-family units. The neighborhood also has its fair share of affordable condos.
Median Home Listing Time
Homes in Bixby Knolls tend to fly off the market, largely a product of the neighborhood's desirability.
In early 2022, Bixby Knolls' properties sold after 37 days on the market on average.1
Schools
Given the fact that the neighborhood is known for its family-friendly approach, Bixby Knolls has several well-regarded schools. The highest rated schools include:
Los Cerritos Elementary School
Holmes Elementary School
Madison Elementary School
In addition, the neighborhood boasts one of California's top-rated public schools: California Academy of Mathematics and Science.
Attractions
A neighborhood full of fun and flavor, Bixby Knolls has something for everyone. The most popular attractions include:
Rancho Los Cerritos – Built in 1844, Rancho Los Cerritos was once the largest adobe-style home in Southern California. It's now a museum dedicated to the richness of Spanish and Mexican culture.
Richard Goad Theater – Fans of Shakespeare will be delighted to watch a Shakespearian play at the Richard Goad Theater, one of the most well-regarded event spaces in Long Beach.
Cherry Park – Designed in 1941, Cherry Park is the perfect place to enjoy the pleasant Long Beach weather. In addition to three baseball diamonds, the park features a playground, picnic area, and tennis courts.
Bixby Park is also noted for its "First Friday" events. These events feature live music and food trucks, and are popular with residents from all over Long Beach.
#2 Naples
Built on three Alamitos Bay islands, Naples is consistently voted as one of the best Long Beach CA neighborhoods, alongside its neighboring community, Belmont Shore.
In addition to its immense beauty, Naples features some of the city's best restaurants, bars, and nightlife.
Families and young professionals looking for an exciting place to call home would be remiss not to consider this neighborhood.
Median Home Listing Price
We know the Long Beach, CA housing market is volatile, and living in Naples may not be the place for homebuyers on a tight budget. The median home listing price for the neighborhood is $2.2 million, making it one of the most expensive in the city.2
However, it's possible to purchase homes for less than the asking price. The median sold home price is $1.6 million.2
Large single-family homes are the most popular type of home in the neighborhood.
Median Home Listing Time
Like Bixby Knolls, Naples is a seller's market. Homes in the neighborhood are on the market for an average of 58 days.
Schools
Naples is known for its great schools, the best of which include:
Naples Elementary School
Rogers Middle School
Wilson High School
Naples Bayside Academy is also located on the island. Considered the "jewel" of Naples, this school is noted for its marine science program.
Attractions
Lovers of the outdoors will delight in all Naples has to offer. Many people spend their days on the beach or the water and their nights strolling down historic Third Street taking in the island's rich nightlife.
The most popular attractions include:
Mother's Beach – One of the most beloved beaches in all of Long Beach, Mother's Beach is full of sun and surf. In addition to sunbathing and swimming, beachgoers can stroll on the boardwalk or grab a snack at one of the many concession stands.
Gondolas – A neighborhood proud of its Italian influences, Naples is known for its gondola tours. Rent a gondola and spend an afternoon exploring the neighborhood's many canals.
La Bella Fontana Di Napoli – A park constructed to resemble Naples, Italy, La Bella Fontana Di Napoli is home to the neighborhood's famous three-tiered fountain. The park also has ample greenspace and benches.
#3 The Waterfront
An area comprising several smaller neighborhoods, The Waterfront is a popular business and residential district in downtown Long Beach. Neighborhoods in The Waterfront district include:
Pine Avenue – Epicureans everywhere will love the Pine Avenue neighborhood. That's because this area is known for its "restaurant row," an assemblage of some of the best eateries in the city.
Shoreline Village – Nestled right on the beach, Shoreline Village is filled with gift shops, excellent seafood, and family activities.
Pike Outlets – The city's premier shopping destination, Pike Outlets contains some of the world's most notable casual and upscale brands.
Wherever you choose to live in The Waterfront, you're sure to love the district's fun hustle and bustle.
Median Home Listing Price
The median home listing price for properties in this area is $419,000, making The Waterfront one of the most affordable districts in the city.3
The most popular units include apartments and condos, although single-family homes can still be found.
Like all of Long Beach's neighborhoods, The Waterfront market favors sellers, although the competition amongst buyers is slightly less fierce.
Median Home Listing Time
Homes in The Waterfront tend to stay for sale on the market longer than other parts of the city. The average Waterfront home is on the market for 71 days.3
Schools
The Waterfront district has 8 public schools and 2 private schools. The district's best schools include:
International Elementary School
Franklin Classical Middle School
Polytechnic High School
Saint Anthony High School
Downtown Long Beach also has several community colleges, including Cardinal Career College and Clarita Career College.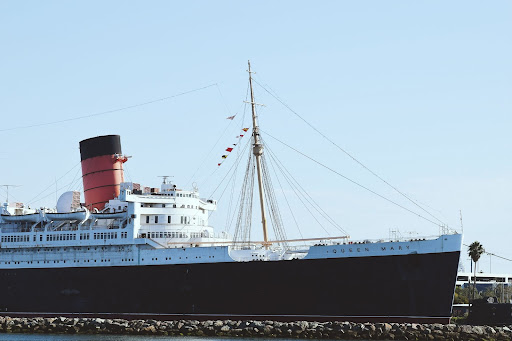 Attractions
Great schools and affordable housing aren't the only fantastic things about The Waterfront district. Considered the "soul of Long Beach," Downtown boasts many attractions, including:
Queen Mary – First setting sail in 1936, the Queen Mary is a historic ocean liner turned hotel. In addition to its many luxurious rooms, the ship offers dining and guided tours.
Aquarium of the Pacific – The largest aquarium in Southern California, the Aquarium of the Pacific is home to thousands of marine wildlife creatures.
Rainbow Harbor Esplanade – Home to classic Long Beach eateries such as Parkers' Lighthouse and Tokyo Wako, Rainbow Harbor Esplanade is a boardwalk you'll want to stroll time and time again.
#4 Alamitos Heights
Voted the fourth best Long Beach neighborhood to raise a family in, Long Beach's Alamitos Heights is a very popular neighborhood on the city's southeast side.
Not to be confused with the coastal neighborhood of Alamitos Beach, Alamitos Heights's great schools and public amenities make it the ideal neighborhood for families, while its bars, clubs, and nightlife are big draws for young professionals.
Median Home Listing Price
Homes in Alamitos Heights tend to be expensive. The median home listing price for the area is $1.3 million.4
That said, the market doesn't favor sellers as heavily as in other Long Beach neighborhoods. This is evidenced by the fact that homes may sell for slightly less than their listing price—the median sold home price is $1 million.
Median Home Listing Time
It's better to move quickly if you want to buy or sell a home in Alamitos Heights. The median home listing time is 53 days.
The most common homes on the market include condos and single-family units.
Schools
In the running for the best neighborhood in Long Beach CA, Alamitos Heights puts education first. Its schools are consistently ranked as some of the strongest in the city.
Impressive Alamitos Heights schools include:
Lowell Elementary School
Rogers Middle School
Wilson High School
What's more, California State University-Long Beach's College of Business Administration calls the neighborhood home.
Attractions
Known for its suburban appeal, Alamitos Heights is full of family-friend activities and eateries.
Restaurants – You'd be hard-pressed to find a bad meal in the neighborhood. Local favorites like Starling Diner and Nick's On 2nd Long Beach offer classic American fare, while Paloma Blanca Mexican cuisine offers some of the city's best Mexican food.
Alamitos Heights Park – Small, yet relaxing, Alamitos Heights Park is the perfect place to get some sun. The 1.3-acre park offers plenty of green space.
St. Isidore Historical Plaza – The oldest building in Alamitos Heights, this former Catholic parish is now a community center championing Mexican and Southwestern culture and history.
Buying and Selling a Home Starts With FlipSplit
There's no denying that Long Beach is a great city to live in. In addition to the sun, waves, and cool vibes, the city boasts a thriving food scene and other attractions. It's also in near proximity to Los Angeles, so if you ever wanted to take a day trip, it's more than possible.
If you've been keeping up to date on the most recent Long Beach real estate market trends and are considering selling your home in one of these areas, the conditions are generally favorable—but that doesn't mean your home is bound to fly off the market. It can still be difficult to sell a home in need of renovations and repairs. Likewise, listing your home at the wrong time can result in a lengthy and potentially expensive process.
Fortunately, FlipSplit makes selling your home easier than ever. Simply put, we buy houses. By buying your home at market value, we get your home off the market and cash into your pocket. What's more, FlipSplit splits any profits with you after selling your home.
Selling your home can be hard. With FlipSplit, it doesn't have to be. Ready to sell your Long Beach home? We buy houses in Los Angeles, San Bernardino, and many other areas throughout Southern California. Get started and request your free, no-obligation cash offer today!
Sources: