10 San Bernardino Neighborhoods On the Rise
Although Inland Empire's San Bernandino is a small Southern California city with a population of about 222,000,1 its residents enjoy enormous perks. Situated in a warm climate, San Bernardino offers parks, mountains, and trails nearby for outdoor enthusiasts and a lively downtown scene for urbanites. Along with these amenities, housing in San Bernardino County is lower than in much of the rest of California.
If you've been thinking about selling your home in San Bernardino, now might be the right time. The real estate market has been booming around the country, and some San Bernardino neighborhoods have enjoyed a hefty increase in property values.
But which neighborhoods are growing in popularity? Where is San Bernardino real estate value spiking most? To answer these questions, we broke down the ten neighborhoods that are currently on the rise.
Quick San Bernardino Real Estate Facts
Before we dive in, let's provide some much needed context for the increasing value of these neighborhoods. In San Bernardino, the median home price has skyrocketed over the last few years. In 2019, the average home cost was about $295,000.2
Since then, things have changed:
Through the first quarter of 2022, the San Bernardino median home price has increased to $445,000
Over 60% of San Bernardino homes have sold above the listing price
Homes spend an average of 55 days on the market from listing to closing
Homes typically have an offer within 25 days or fewer
Many sellers have multiple offers to choose from
These stats all point to one thing—sellers may see some serious return from putting their San Bernardino house on the market.
10 Best San Bernardino Neighborhoods
Given the surge in property value, let's review some of the best neighborhoods in San Bernardino and how their homes are selling.
#1 Amber Hills
Those who value their outdoor time might enjoy living in Amber Hills. This neighborhood is located in the northwest part of the city and offers a ton of diversity. For families, there are several highly rated schools in and near Amber Hills.3
Median home value – $344,808

Average rent – $1,200

Top amenities – Amber Hills has several respected schools, there are many parks nearby, and retail shops are easily accessible.
#2 Arrowhead
Named after Lake Arrowhead, Arrowhead is a medium-sized neighborhood with approximately 15,600 residents.4 It's located in the north-central part of San Bernardino.
Officially annexed by the city in 2009, Arrowhead contains some of the most spectacular views of the San Bernardino Mountains. It's home to the Arrowhead Springs Hotel, a nearly 2,000-acre property that many visit for its hot springs and beautiful grounds.
Median home value – $266,634
Average rent – $1,117
Top amenities – The Arrowhead Springs Hotel is the biggest draw in the neighborhood. However, outdoorsy types will love the proximity to the San Bernardino Mountains and trails living in Arrowhead offers.
#3 Cajon
Situated in the northern part of the city, the Cajon neighborhood is home to about 11,700 residents.5 The majority of the residents here rent their homes, but ownership doesn't lag too far behind. The neighborhood ranks highly for public schools and economic diversity. As for families, about 40% of the residents in Cajon have children.
Median home value – $267,175
Average rent – $1,212
Top amenities – Cajon offers the convenience of a larger city yet with a suburban atmosphere. Residents have access to retail, restaurants, and parks while also enjoying the quieter side of a low population density.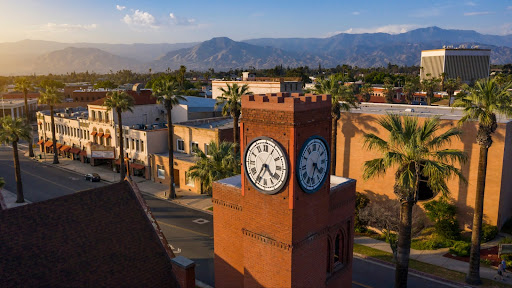 #4 Del Rosa
Del Rosa is a rather large neighborhood in the heart of San Bernardino, just 2 miles east of downtown. Over 27,000 people reside here.6 Most of the residents own their homes and enjoy easy access to parks, restaurants, and bustling nightlife.
Median home value – $266,854
Average rent – $1,342
Top amenities – Del Rosa has plenty of parks and highly rated schools. The location of the neighborhood provides residents with plenty of amenities—within walking distance—such as restaurants, bars, and more.
#5 Devore Heights
Devore Heights sits on the outskirts of the city to the northwest. In this neighborhood, home values are a little higher, although you're further away from some of the city's amenities.7
Many families live in Devore Heights, as it's a wonderful place to raise children. If you work in the city, you'll need to allocate more time for a commute, but highways are relatively accessible from the neighborhood.
Median home value – $584,121
Average rent – $2,272
Top amenities – This neighborhood has a suburban feel with larger family homes accounting for most of the real estate. Devore Heights is also home to the Glen Helen Amphitheater where many music festivals are held.
#6 DRNAG South
This tiny neighborhood rests beneath the 210 freeway. It has a fairly dense renters population, and multi-family homes are more prominent than single-family homes. In fact, the majority of residents in DRNAG rent rather than own their homes.8
Median home value – $459,360
Average rent – $1,547
Top amenities – Residents of DRNAG have access to public transportation and the freeway. Additionally, there are various schools in the neighborhood.
#7 Kendall
The Kendall neighborhood in San Bernardino has about 9,000 residents (rendering it a mid-sized community).9 Given that the population is predominantly renters, Kendall is home to many young professionals. As for location, Kendall is located in the northwest part of San Bernardino and runs along the 215 freeway.
Median home value – $336,893
Average rent – $1,516
Top amenities – Kendall has a lovely park in the center of the neighborhood. Most of the dining options are located at the northern tip of Kendall, with a wide variety of options for those seeking a quick bite.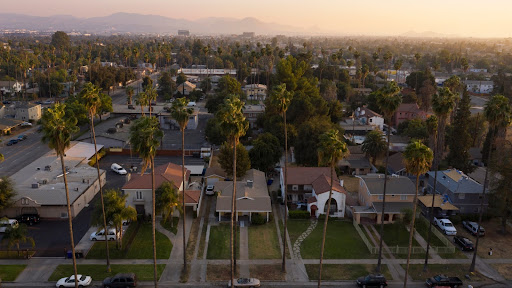 #8 Ridgeline
The Ridgeline neighborhood is located in the northern part of San Bernardino and hosts about 3,700 residents. The majority of residents in this diverse neighborhood rent their homes. When it comes to accessibility, Ridgeline is adjacent to the freeway and houses several above-average schools.
Median home value – $338,242
Average rent – $1,187
Top amenities – Ridgeline is near several retail shops and a variety of restaurants. It's also within a short drive or bus ride to many large parks.
#9 University District
Best known as the home of California State University, the University District is also a great place to call home. Given the inventory of schools, University District is a fantastic place for families of all types.
There are about 3,800 permanent residents—excluding university students—in this fairly small neighborhood.10 Additionally, the median income is higher than in many other parts of the city ($76,291), and nearly half of University District residents have earned a college degree.
Median home value – $341,140
Average rent – $1,155
Top amenities – The University District offers residents close access to the campus. There are also lots of parks within the neighborhood. The elementary, middle, and high schools in the neighborhood are highly rated, making it an ideal haven for families.
#10 Verdemont
Located in the northern foothills, Verdemont is home to incredible real estate and gorgeous parks, making it one of the more expensive neighborhoods to live in. About 75% of residents of Verdemont own their homes, and the median household income is approximately $88,102.11
Median home value – $377,287
Average rent – $1,560
Top amenities – There are many large parks spread throughout the neighborhood. California State University is also only 2 miles away. Highly-rated elementary and middle schools are in the neighborhood, making it a suitable choice for families with younger children.
Is It a Good Time to Sell a Home in San Bernardino?
Absolutely. Thanks to an explosion in housing demand with limited supply, San Bernardino has become a seller's market. If you've been considering listing your San Bernardino home, now might just be the perfect time.
While there are multiple factors that contribute to a home's spike in value, a few key attributes to keep in mind include:
Condition of the home
Proximity to desirable amenities
Neighborhood in which you live
Who you enlist to help sell your home
And when it comes to the last point on that list, that's where we can help.
Maximize Your Home's Value with FlipSplit
Here at FlipSplit, we buy houses. In fact, we expedite the home-selling process by purchasing your house directly from you. You'll never have to deal with the work involved in making a home "market ready," and we pay you a fair price in cash.
From there, we'll render home improvements that boost your home's value and list it on the market. Once it's sold, we'll split the profits. So if you're looking for a hassle-free way to sell your San Bernardino home, you're in the right place—we'll do the work, so you don't have to.
We buy houses in San Bernardino as-is, from inherited properties to homes at risk of foreclosure. Contact us today to learn more about what FlipSplit can do for you.
Sources: