3 Long Beach Real Estate Trends To Follow Closely
Anyone who's ever dabbled in real estate knows that the process of selling a home begins with understanding the market.
Familiarizing yourself with market trends—from median price to supply and demand—is especially important when you're trying to sell your home in a place as popular as Long Beach in Southern California. While sunny skies and proximity to LA provide ample opportunity for sellers, listing your home with insufficient planning can result in a lower sale price and a longer time to close.
In this guide, we'll dive into three Long Beach real estate market trends you should follow closely to get top-dollar on your property.
#1 Your Neighborhood's Market
One of the most important things to know before selling your Long Beach home is whether your home is in a buyer's or seller's market.
In a buyer's market, ample supply and low demand make it easier for buyers to find homes within their price range, make offers below the asking price, and ask for concessions from the seller.
In a seller's market, the demand for housing units far exceeds the supply. As a result, you can typically expect to sell your home for more than its listing price.
In general, the Long Beach housing market is a seller's market. That said, some Long Beach neighborhoods lean more heavily in one direction than the other.
For example, while the Naples and Belmont Shore neighborhoods are heavy seller's markets, the East Village Arts District located near downtown Long Beach is more balanced. Knowing your area's market will significantly help in understanding your home's potential value.
#2 Home Listing Price Trends
The median home listing price is the average price of homes in your area. The median listing price for Long Beach homes is $735,000. This translates to a median home listing price per square foot of $570.1
However, the median home listing price differs from the final home sale price. Long Beach's median sold home price is $785,000, meaning sellers can generally expect to sell their homes for more than their initial valuation.1
Next, we'll look at four additional pricing trends that can help you determine your home's value:
Listing price trends
Sale-to-list price ratio
Median days on the market
Types of homes sold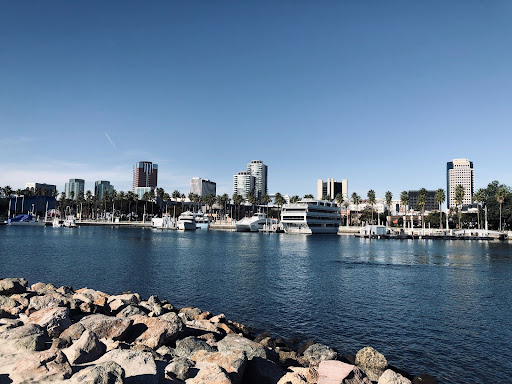 Listing Price Trends
While the median home listing price tells you the average home value on the market currently, listing price trends can project their values down the road.
There are two primary trends to look at: month-to-month trends and year-to-year trends.
While month-to-month trends can help you understand minute market fluctuations, year-to-year trends paint a fuller picture.
For example, from November 2021 to December 2021, the Long Beach average home price fell from $749,000 to $735,000. This was a 1.86% month-to-month decrease.
However, from December 2020 to December 2021, the median home listing price rose 17.6%.1
Sale-To-List Price Ratio
Compared to their list price, sale-to-list price ratio is what homes are actually selling for. This information is expressed as a ratio.
Although the sale-to-list price ratio differs based on neighborhood, the city's sale-to-list price is 100.68% or nearly 1:1. This means that homes are generally selling for just a bit more than their list price.1
Median Days on the Market
The median days on the market is a good indicator of how desirable an area is.
As of December 2021, the average time a Long Beach home is on the market is 53 days.1
However, like listing price trends, it's more helpful to follow average time on the market trends. In December 2020, homes could expect to be listed for an average of 58 days—8.62% more than listing times.
In short, now is a good time to get your Long Beach home off the market quickly—but that trend may not hold.
Types of Homes Sold
Although it can be helpful to know the median listing price for all homes, it's often more beneficial to know the median listing price for specific types of homes you're selling.
This is because condos are generally listed at different prices than single-family homes and townhomes.
Let's look at trends for the three most common home types:2
Single-family units – In October 2021, the average selling price of single-family units was $928,069. The sale-to-list price ratio was 101.71%. 1,894 homes were sold during the previous year.
Condos – The average list price for condos in October 2021 was $517,050. The sale-to-list price ratio was 101.70%.
Townhomes – The average list price for townhomes in October 2021 was $662,601. The sale-to-list price ratio was 101.50%.
#3 Delinquent Mortgages and Foreclosed Homes
Foreclosed homes can depreciate an area's home values, since some buyers may be interested in these low-cost investment prospects. Therefore, paying attention to delinquent mortgages and foreclosed homes can help you know the best time to sell.
Delinquent mortgage rates vary by location, and in LA County that number is 4.2%.3 Despite this, only 0.6% of Long Beach homeowners are defaulting on their mortgages. This is well below the national average.4
That said, 5.1% of homeowners owe more to the banks than their home's worth, suggesting that foreclosure rates could eventually be on the rise.4
Ignore the Trends, Try FlipSplit
When it comes to selling your home, you can never have enough information about the local housing market. Staying educated on market trends help you determine the right time to list your home at the right asking price. Needless to say, all this information can make your head spin.
Fortunately, FlipSplit makes processing all of this information much easier. That's because we buy houses at their market value, putting sellers' minds at ease—and cash into their pockets.
And the best part? FlipSplit will split any profits with you after the sale. As expert off-market buyers that specialize in Southern California real estate, we buy houses in Los Angeles, Orange County, and countless other locations throughout the SoCal region. Choose FlipSplit and sell your home the fast, straightforward way.
Sources: