5 Things Any Seller Should Know About The Long Beach, CA Housing Market
From awesome waterside attractions to an art scene as hot as the Southern California sun, Long Beach, CA has a ton to offer.
In fact, the city has so much going on, you may think housing properties just sell themselves.
However, as any seasoned seller knows, even the most desirable housing markets are just that: markets. And markets come with a host of trends that sellers need to understand in order to get their properties sold quickly and lucratively.
That's where we come in. In this detailed guide, we'll give you the low-down on the Long Beach CA housing market, touching on everything you need to know to make selling your home as easy as sipping a mai tai on the beach.
#1 Market Type
The real estate world consists of buyer's markets and seller's markets. Whereas home searchers in buyer's markets can often purchase homes for less than the seller's asking price, buyers in seller's markets have less negotiating power.
Here are a few factors that influence market type:1
Supply and demand – Regardless of whether you're selling a carton of eggs or a three-story ocean-front property, the principles of supply and demand reign supreme. In a buyer's market, supply exceeds demand, sometimes causing sellers to lower their asking prices to move properties off the market. In a seller's market, however, demand exceeds supply, causing housing prices to rise.
Desirability – A factor in supply and demand economics, desirability refers to the advantages a market provides. Geographic areas that are desirable due to their business, cultural, and lifestyle amenities often become seller's markets in which houses fetch higher prices than in less-desirable markets.
If you thought Long Beach was a seller's market, you'd be absolutely right. Given the high demand for housing in the city, sellers can often sell their properties at or above market value—depending, of course, on a number of factors related to the home's specific location and condition.
#2 Average Housing Cost
Now that you know Long Beach is a seller's market, you're probably wondering how much the average home costs in Long Beach.
According to the latest market metrics as of early 2022, the Long Beach average home price is $735,000, making housing prices in the city much higher than the national average.2
However, this average price doesn't tell the whole story. The Long Beach real estate market is monetarily diverse. For a more complete picture, let's look at the average housing cost for a few neighborhoods (again, based on early 2022 data).2
Bixby Knolls – The average home price in the Bixby Park neighborhood is $419,000, making this neighborhood one of the most affordable housing options in the city.
Belmont Heights – This neighborhood's average selling price comes in at $887,000, slightly higher than the city's average.
Seadip – Homes in the Seadip neighborhood aren't exactly cheap. The median listing price is $1.1 million.
Central Long Beach – The most affordable neighborhood in the city, houses in Central Long Beach fetch a median price of $394,500.
As you can see, Long Beach's median housing price varies greatly by neighborhood. Knowing how your neighborhood's listings stack up against the city's median listing price is valuable information when it comes to selling your property.
#3 Housing Type
Median listing prices are calculated from the data of all available listings—from condos to ten-bedroom mansions. If you're selling a small two-bedroom in a neighborhood that's mostly large estates, the median listing price won't serve as a helpful starting point for understanding your home's valuation.
Looking at data for your property's housing type enables you to compare your home to comparable properties in the area. For example, if you're selling a condo, it's more beneficial to know what condos are selling for in a particular neighborhood than single-family homes.
Before discussing the most popular type of home in Long Beach, let's define the three most prominent housing types:
Condos – Similar to apartments, condos are constructed on land that is shared. However, unlike apartment renters, condo owners own the space inside their unit.
Townhomes – Townhomes are like apartments and condos in that a unit's walls are shared by another unit. Where they differ, however, is the outside space. Townhome owners own the land outside of the townhome. As a result, townhome owners are usually subject to homeowner's association (HOA) fees.
Single-family units – Single-family housing units are, as their name implies, units meant for single families. They usually come equipped with private entrances and exits, and owners typically own the property outside of the unit.
In Long Beach, single-family housing units have dominated the recent housing market. According to the Los Angeles Times, as of March 2016, single-family units have outsold condos by an almost 2:1 margin.
#4 Listing Time
Sellers who don't know a market's average listing time are at a serious disadvantage when it comes to moving their property off the market. That's because a market's listing time lets sellers know how long it should take to sell their property. If the average listing time has passed, sellers may need to start rethinking their marketing strategy.
The national average home listing time is 46–55 days.3 As of December 2021, the average listing time for Long Beach was 30 days, however. 4This decreased listing time is mostly a result of the Long Beach seller's market.
That said, some Long Beach homes sell even quicker than the city's average.
Known as "hot homes," properties that are in the most desirable areas sell in as few as 14 days. What's more, these homes typically fetch a price 2% higher than the asking price.4
If you need to sell your home quickly in order to close on another property, be cognizant of the typical time to close in your neighborhood (and any potential issues with your home that could prolong the process).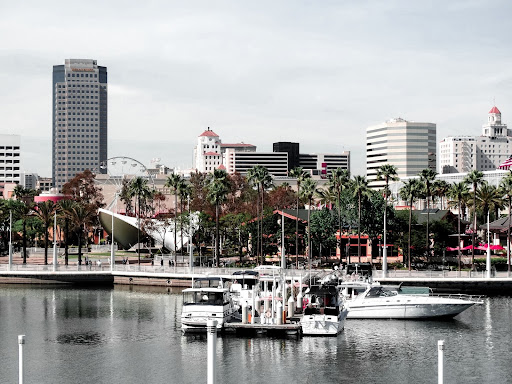 #5 Neighborhood Characteristics
While prospective homebuyers will definitely want to know a market's average listing price and other objective "hard data," they'll also want to know what makes certain neighborhoods stand out.
This is because buying a home means more than securing a living space. You're also buying a lifestyle. And buyers may place more emphasis on what a neighborhood can provide than on the home's listing price.
For example, you might have one of the most beautiful ocean-front properties on the market, but if your home is in an area with few schools, families with school-age children may be unwilling to buy your property.
Let's take a deeper look at a few popular Long Beach neighborhoods.
Bixby Knolls
Known for its upscale amenities, fine dining, and cool ocean breezes, the Bixby Knolls neighborhood is often regarded as the best place for young professionals and families.
In addition to its proximity to the heart of the city, just minutes from downtown Long Beach, the neighborhood is known for the following:
Scherer Park – A 26-acre park located in the heart of the neighborhood, Scherer Park boasts basketball courts, weight training facilities, a community center, and walking trails. This park is perfect for people looking for an active lifestyle.
Knott's Berry Farm – Although it sounds like a place to pick basketfuls of blackberries, Knott's Berry Farm is actually a large theme park packing 40 thrilling rides.
Given all the family fun the neighborhood has to offer, Bixby Knolls is an ideal neighborhood for families with children.
Belmont Heights
The neighborhood to really let loose in, Belmont Heights is popular with students and young professionals. Living in Belmont Heights means relaxing at one of the neighborhood's many boardwalk coffee shops and bars while watching the surfers hang ten in the ocean.
Other amenities include:
Nightlife – Sellers in Belmont Heights would be remiss not to let potential buyers know about the neighborhood's exciting nightlife. Clubs such as Hush and the Sevilla Nightclub of Longbeach are sure to make for a great night out.
Restaurants – Whether you're looking for an early breakfast before work or a late-night snack following a night full of dancing, Belmont Heights has your taste buds covered.
If you're selling a home in Belmont Heights, emphasizing nightlife, as well as the neighborhood's gastronomical goodness, is sure to make younger homebuyers more than a little intrigued.
East Village Arts District
The city's arts center, the East Village Arts District is the perfect neighborhood for families and artists.
In addition to the area's numerous restaurants, bars, and coffee shops, the area boasts several art galleries and great public schools. With close proximity to downtown Long Beach, it's also one of the most affordable neighborhoods in the area.
Here are a few of the neighborhood's key spots:
Long Beach Museum of Art – The city's premier art museum, the Long Beach Museum of Art delights with over 4,000 pieces of art.5
Gumbiner Park – A park noted for its artistic sensibilities, Gumbiner Park has walking trails, performance areas, picnic areas, and a skate park.
Mentioning a few of the neighborhood's amenities in your listing is sure to pique the interest of creative types.
Sell Confidently With FlipSplit
As a seller in Long Beach, CA, you're in a potentially enviable position thanks to the strong seller's market.
However, keep in mind that the condition of your individual home, along with current Long Beach real estate market trends, can make the selling process more complicated—and more prolonged. Buyers might ask for concessions over necessary repairs and could even walk away from the deal. In addition, a lengthy time on the market can result in a low selling price while putting a wrench in your other plans.
The good news? We buy houses. By paying for your home's market value upfront with cash, FlipSplit takes the headache out of selling your home. And the best part? Any profit we make will be, well, split with you. Sell your home with FlipSplit and make more time for what truly matters: kicking back on the beach with not a care in the world.
Sources: