Guide to Selling and Buying a House at the Same Time
Selling your home, moving, and buying a new home—each of these can be a thrilling change, but can also stir up a storm of tasks to take on. If you're planning a big move, how can you keep your stress down and make the best decisions for your family?
Luckily, you're not the first person to wonder how to buy and sell houses at the same time.
From financing to help you afford the purchase to contingencies to protect your housing options, there are many ways you can make the transition from one home to the next a little smoother. In all cases, early planning and knowing best practices can help you keep your cool. Below, we'll review eight tips for success in selling and buying a house at the same time.
#1: Choose Financing to Cover the Gap
If you're a current homeowner, you might know that being able to afford a 20% down payment can be a big help in growing your equity and avoiding the extra cost of private mortgage insurance (PMI).1 PMI protects the lender's interest, but paying for it comes out of your pocket until you establish 20% equity in your new home.
Besides your down payment, closing and moving costs can add up quickly. For most people, the sale of an old home is the way to fund buying a new home—but usually, there's a gap in time before the sale profit is available to cover the buying needs.
When you're budgeting for a new property or home, do the math to make a financing plan that works best for you. If your savings won't cover the financial gap, you can consider other options, such as:2
Bridge financing designed to cover a temporary loan need
Home equity or HELOC borrowed against your old home
A hybrid mortgage that rolls an equity loan into your new home mortgage
Borrow against assets such as a Roth IRA or a 401k
If you qualify financially, you may be able to supplement your budget with a federal and/or state grant, no-interest forgivable loan, or deferred-payment loan.3
With all of these choices in play, you may want to consult a mortgage broker in addition to shopping around for lenders. If you are torn between bridge financing or are interested in exploring the several alternatives to bridge financing, discussing your options with an expert is key.
#2: Make a Flexible Housing Transition Plan
Ideally, you'd finish bubble-wrapping your breakables and follow a moving truck from your old home to the new destination that's ready for you to move in that same day.
In reality, there may be a delay between leaving your former home and settling in to your new one. Consider what resources are available and whether you want to incorporate an addendum to either your purchase or sale contract that helps with your housing transition.
If you sell before you can move into your new house, consider:
A short-term sale-leaseback that allows you to stay in the old home and pay rent
Staying with family or friends
A residential hotel
Monthly rentals through services like Airbnb
A vacation or cruise
If you buy before you can sell your home, consider whether:
You need additional financing to cover doubled monthly housing costs
The sellers of your new house are interested in staying longer via a temporary lease
Finally, don't forget about your furniture and belongings. If you end up crashing in your sibling's guest house in between, you may not be able to bring everything with you. You may want to:
Work with a professional moving company that can cover short-term storage
Rent a self-storage unit
Split your belongings between a few helpful friends' or family members' garages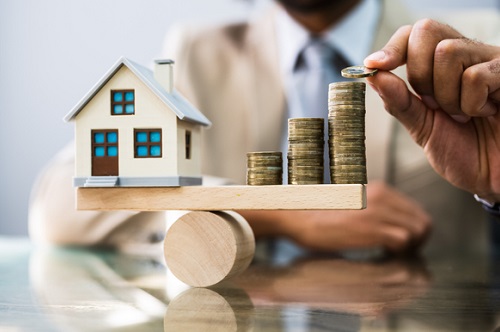 #3: Organize and Schedule
If you're a certified color-coding spreadsheet expert, now's the time to delight in the details. One of the biggest challenges in selling a house and buying a new one simultaneously is making sure nothing falls through the cracks.
Here are some tips to help you stay organized during the process:
Use two separate binders or folders for each house process.
Keep an organized to-do list, and don't toss it—you may need a record of dates or details.
Share a central, visible family calendar or sync your online calendars to help all involved stay up-to-date.
Don't work from a scatter of post-it notes and business cards.
Keep your notes organized and available for others, so you can easily ask for help when you need it.
Discuss scheduling and task management with your real estate agent and any family members who reside with you or are involved in decisions.
#4: Buy Your New Home With a Home Sale Contingency
When you make an offer on a new home, you can include an addendum that makes the sale contingent on your ability to sell your old house.4 Putting the house in contingent can protect you from the possibility of ending up with two houses, two monthly mortgage payments, and one giant ball of worry.
But here's the deal—if you end up competing with another potential buyer for a house, sellers may prefer an offer that's not contingent on the buyer selling their home. In times when sellers have their pick of buyers, this can make or break your ability to land the home you want.
If a financing or immediate sale option works for you, then avoiding a buyer's home sale contingency is worth exploring.
#5: Request an Extended Closing
If you find the perfect new home before your old house sells, you can also request an extension on the closing date of the new home.5
While this option might not necessarily help you bridge the financial gap, it can give you more time to figure out your options, with a 60-day window to wrap up your home sale. If you're considering this option, you'll also want to check with your lender on whether it impacts your interest rate lock or loan offer.
#6: Sell Your Old Home With a Home of Choice Contingency
So, can a seller back out of a contract? Sure can. Sellers can also make the reverse of a home sale contingency with a "home of choice" addendum in response to potential buyers' offers.6 This addendum states that closing on the sale of your old home is contingent on you entering into a contract to purchase your new home. 
The pros of a home of choice contingency include:
The option to use a broad exit clause to back out of the sale of your old home, if you cannot find a new one.
More control over the timetable for closing on your home sale and purchasing a new one
The ability to stay in your own home until you have a new place to live
However, this is a rarely used clause and agents may warn buyers against accepting it in your counter-offer. It's a risk to a buyer knowing their new home might fall through if you don't find a house you love—or if you decide to back out of the sale for any other reason.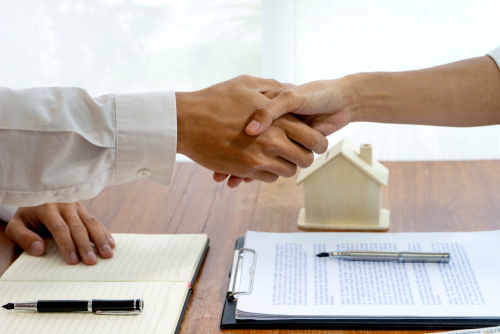 #7: Communicate Like a Pro
When you're buying and selling a home, it can be easy to feel like your phone never stops ringing. But this communication is necessary for a reason, and it can help all involved to stay connected in a timely manner. The last thing you want in a multi-transaction move is an agent or buyer you can't reach.
To that end, ensuring you have the right contact information is an essential part of being able to follow up on time.
When it comes to potentially complex loan approvals, multiple incoming offers and outgoing counter-offers, and new homes to view ASAP, you need:
Complete contact information for professionals: mobile and text, email, postal
Preferred mode of contact
Available hours for calls or texts
A central place to hold business cards or record contact information
In addition to your real estate agent (or agents, if you use one to buy and another to sell), you'll want a record available of contact details for:
Home inspector
Appraiser
Current mortgage lender
The lender for your new home, if different
Mortgage broker
Contractors, cleaners, and handypersons
Family members, in case you need to share their contact details too
#8: Get an Early Start on Prepping Your Home
If you can start preparing your home for sale well in advance, doing so can give you a lot more flexibility when the time comes to actually move. There may be a ton of variables in the weeks or months before you decide to move, but many of the tasks involved in getting ready to put your current home on the real estate market can be anticipated.
Start with these steps:
Gather past home improvement records and list dates of important home repairs, such as roof replacements.
Identify your DIY resources, existing property weaknesses, and upgrade opportunities.
Consult with your selling real estate agent on their recommended updates.
Research the return on investment of any significant upgrades.
Estimate costs and decide on a budget for materials, tools, and labor to complete any projects.
Once you build momentum toward selling your home, begin to figure out the timing and add these items into your schedule:
Major remodels critical to selling the home
Maintenance and repair of anything that doesn't work smoothly
Patches to dings and holes in walls, and touch-ups if not you're not repainting
Lawn clean-up and any plantings to improve curb appeal
Light packing and removal/storage of belongings to streamline and de-clutter
Redecoration or staging if recommended and affordable
Deep clean in preparation for house viewings
Of course, some people may not have time to complete all these tasks before a sale. Maybe you work full time, are taking night classes, or have a growing family to look after. In that case, it may be better to find another way to make your move easier—one that does all the work for you, like selling your home to a house flipping company.
Slash Your Workload and Sell for a Profit With FlipSplit
Although you can find ways to help plan and stay organized, a move that includes buying and selling a house at the same time can mean a lot of coordination, communication, and work. Selling your home usually comes with the longest to-do list—particularly if it needs anything more than a light cleaning to be sale-ready.
Consider partnering with FlipSplit instead. As you may have heard, we buy houses and with that, our skilled contractors take on everything from minor cosmetic upgrades to remodeling houses completely. We sell single-family homes for top dollar and split extra profits with you.
For our clients, we're an answer to the difficult choice between taking on difficult and costly home improvements or losing out on potential profits. Visit FlipSplit today to find out if we're the answer for you.
Sources: